I always enjoy having something sweet with my tea in the morning AND after dinner! A habit my mother helped to create! Homemade sweet treats were always a staple in our house when I was growing up. Now, I've carried the habit into my own home. Today, I'm going to share how to make easy holiday peanut butter cookies.
Do you love sweet treats? I'm always looking for new recipes. If you do or if you're looking for something sweet to make for the holidays, no worries! Today, my friend Jen from Midwest Life and Style has gathered some of my blogging buddies and I together. We are all hanging out in our kitchens to share with you our holiday cookies and treats.
If you are coming to my cottage from my dear friend Tammy at White Lilac Farmhouse, a big Mitten welcome to you! How about Tammy's Easy No-Bake Christmas Cookies? So yummy and who doesn't love a good no-bake recipe! If I'm lucky maybe she'll send me some for Christmas!
A Little Bit About Me
If this is your first time here, my name is Kim, I live in a cottage style home, in the beautiful four season state of Michigan! Believe it or not, many people don't know Michigan is shaped like a mitten. Hence, my blog name Cottage in the Mitten. I'm passionate about my family, faith, home decor and a good cup of tea!
Now that you know a little bit about me, let's get on to peanut butter cookie making!
Like most homes, peanut butter was always a staple in our house. My dad used to say, "Man cannot live on bread alone, he must have peanut butter!" He was such a funny guy!
I shared another peanut butter favorite in my post The Best Southern Christmas Candy Made Simple. You'll never believe what it is made with!
"God spreads grace like a 4 year old spreads peanut butter. He gets it all over everything." – Mark Lowry
A Little Peanut Butter History
Marcellus Gilmore Edson of Montreal, Quebec, Canada, obtained the first patent for a method of producing peanut butter from roasted peanuts in 1884.
A man by the name of John Harvey Kellogg developed it for the older community who needed food nutrients, like protein but couldn't chew meat.
Peanut butter made it's first appearance in 1904, for sale, at the St. Louis World Fair.
Affiliate links are used in this post. Read my full disclosure here.
Making The Peanut Butter Cookies
Every week, Big Al and I watch our granddaughters. Our oldest is three and she loves to do crafts and help cook. When I told her we were making Christmas cookies, last week, she was more than ready to get her apron on!
Any day to craft or cook with her is a good day!
Also, these cookies are a perfect option for baking with your favorite littles or if you are just looking for a super easy recipe, for Christmas.
Step 1
My mother used to make her peanut butter cookie dough from scratch, but for an easy cookie, I use a Betty Crocker peanut butter cookie mix package. Definitely quick and easy.
Following the directions on the package couldn't be easier!
In a medium size bowl, pour the contents of the cookie mix and add vegetable oil, water, one egg and mix well.
That's all there is to it!
Step 2
Once the batter is mixed thoroughly, use a small scooper to gather dough and create balls. I like using the scooper so I get about the same amount each time.
I like to make a bigger cookie but you can make them small, if you like.
The next part was my grandaughters favorite! Every peanut butter cookie has to have that criss-cross pattern in them and she was more than happy to help!
Grab a fork and push it into each ball of batter once and then the opposite way, a second time.
(By the way, having her sweet little hand in mine was the best part of this project!)
Bake in the oven as directed. I use parchment paper, but it's not necessary.
Step 3
Remove from the oven and put on a cooling rack until cool.
Last step, you want to make your cookies look festive for the season!
Using a microwave, I melted the chocolate chips in a small bowl. Make sure you check the chocolate every 30-45 seconds. Take it out of the microwave and stir. Do this process until the chocolate is completely melted.
Take your cooled cookie and dip one side in the melted chocolate. Let the excess drip off or use a knife and rub it across the bottom edge.
Dip the chocolate end of your cookie in your favorite Christmas sprinkles.
Lay on the cooling racks until dry.
That's it! Easy, right?
Easy Peanut Butter Christmas Cookies
Equipment
1 medium size bowl

1 small scooper

1 piece of parchment paper
Ingredients
1

Package

Betty Crocker Peanut Butter Cookie Mix

Follow Directions

3

Tbsps

Vegetable Oil

1

Tbsp

Water

1

Egg

1

Package

Semi-Sweet Chocolate Morsels

Red & Green Sprinkles
Next up on our holiday treat tour is my friend Lynne from My Family Thyme. You're going to love her take on snickerdoodle cookies!
I hope you enjoyed my spin on an easy and yummy cookie! You don't need a lot of time or a fancy recipe to create a pretty Christmas cookie.
Happy baking!
Don't forget to follow me on Instagram and Pinterest!
Christmas Cookies and Holiday Treats
Are you looking to add some new recipes to your holiday rotation this year? Click on the links below to go to each post and see more.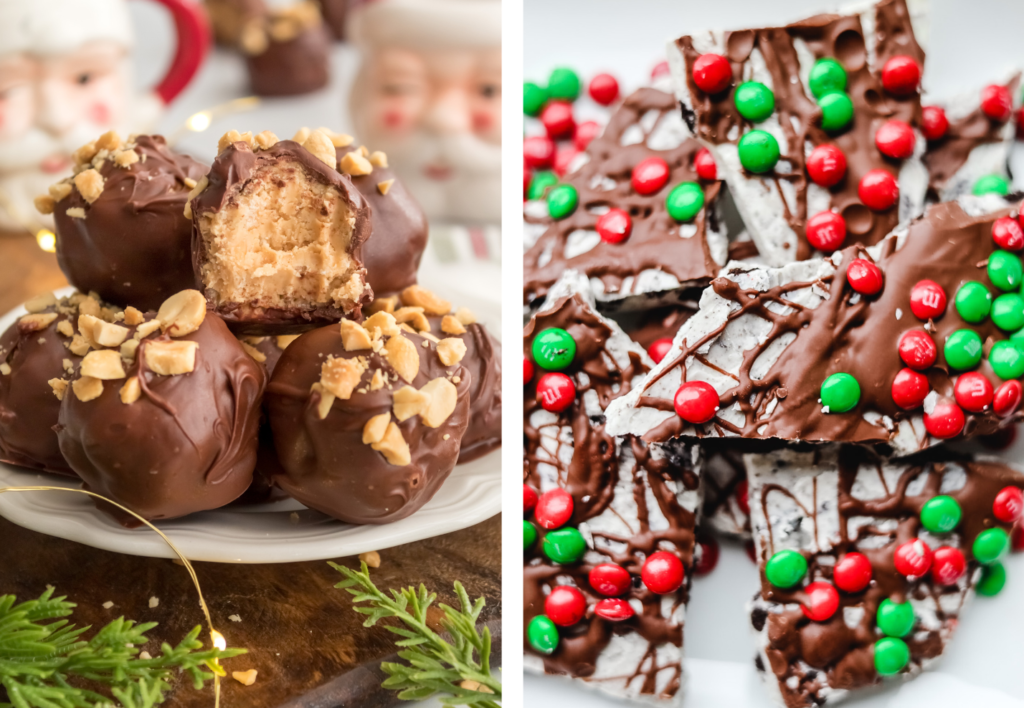 Midwest Life And Style – Peanut Butter Balls | Cottage On Bunker Hill – Double Chocolate Oreo Bark | White Lilac Farmhouse – No Bake Christmas Cookies | Cottage In The Mitten – Holiday Peanut Butter Cookies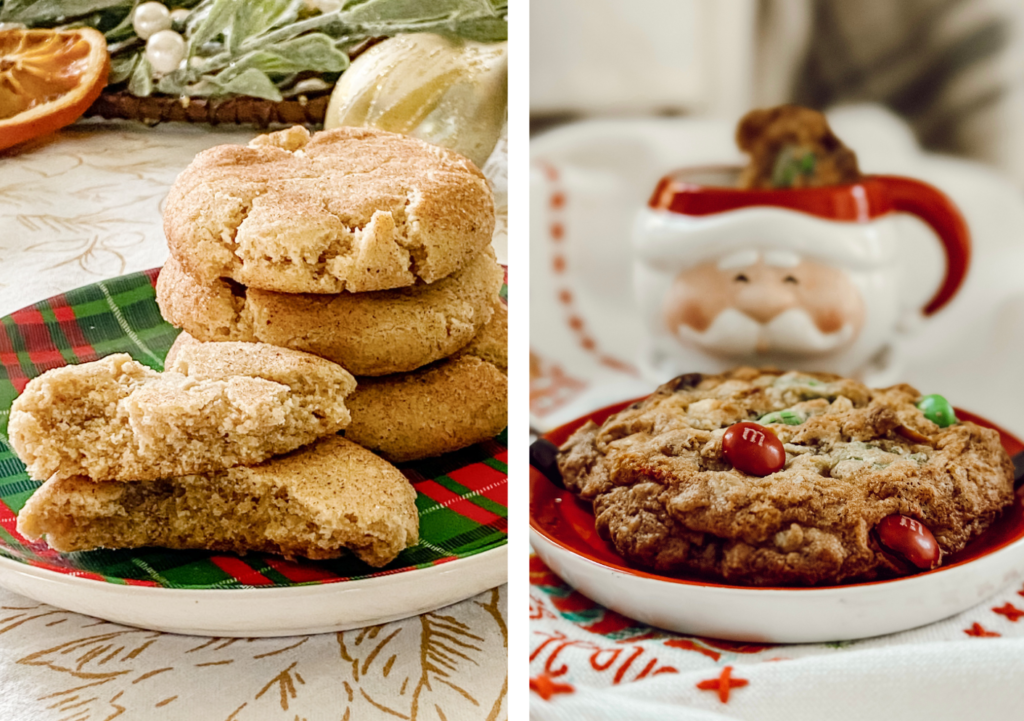 My Family Thyme – Eggnog Snickerdoodle Cookies | Eleanor Rose Home – Christmas Monster Cookies | Pasha Is Home – Christmas Fudge | Tatertots And Jello – Holiday Dipped Oreo Cookies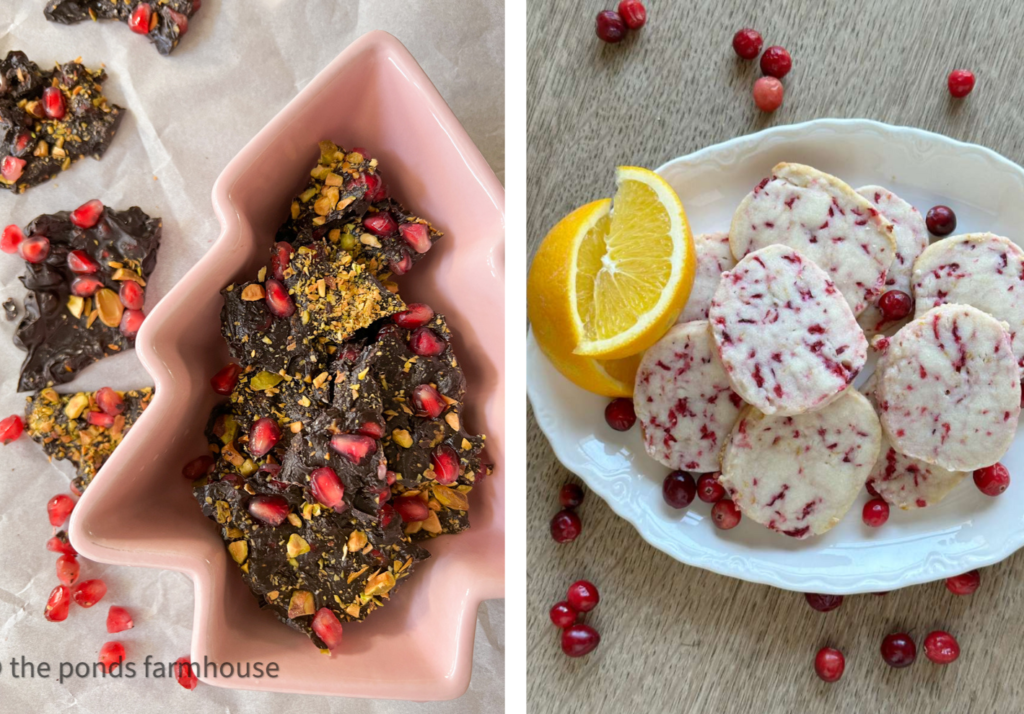 The Ponds Farmhouse – Dark Chocolate Pomegranate Bark | Vintage Home Designs – Cranberry Orange Shortbread Cookies | Our Tiny Nest – Pistachio Thumbprint Cookies | Bricks 'n Blooms – Tiger Butter Fudge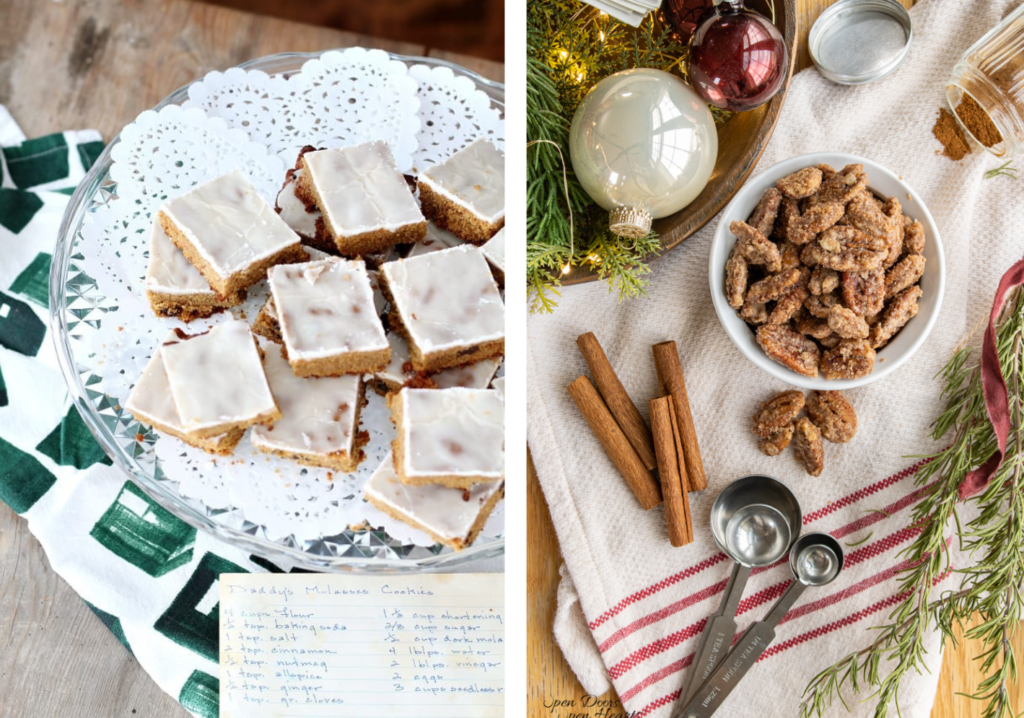 The Tattered Pew – Daddy's Molasses Cookies | Open Doors Open Hearts – Cinnamon Sugar Pecans | WM Design House – Cinnamon Popcorn | She Gave It A Go – Holiday Punch
Shop My Favorites

You May Also Like