Hello friends! Welcome to my Cottage in the Mitten. It's going to be a fun day! Are you thinking spring? If so, I have a treat for you. Today, I have the privelege of participating in the Blogger's Best Spring Home Tour 2022, hosted by my sweet friend Kelly at The Tattered Pew. I am going to share My New Blue Spring Home Tour – Part 1 with you today. Each day this week, some of my blogging friends will each share their spring home tours. There's so much inspiration and I promise, you won't want to miss it!
If you've been my friend for a while, I'm so glad to have you back! If you are new to my place, I'm glad to have you here! My name is Kim and I've lived in Michigan my whole life. My door is always open, ready to share my love of home decor, furniture painting, DIY, and a good cup of tea!
If you've traveled over here from my friend, Kim from Shiplap and Shells, wasn't it fun celebrating spring in her beautiful cottage?! Kim has such a pretty home and her gardens are amazing! Talk about eye candy!
Affiliate links are used in this post. Read my full disclosure here.
My New Blue Spring Theme
I recently completed a pretty big refresh of my living and dining areas. If you were here for my post, last week, on How To Create A Simple Blue & Pink Easter Table, you know that I have been crushing on all things blue, this spring.

All things blue and I'm obsessed with bird decor.
If you live in the Midwest, returning birds are definitely a sign of spring.
Needless to say, you will see both of those things in my spring home tour.
Spring: a lovely reminder of how beautiful changc can truly be. – Unknown
Bring On The Blue!
Three years ago, I transitioned from red and gold decor to gray. For this color loving girl it was definitely a big change.
Anyway, I did love and embrace the change, however, I think I went overboard with the gray. Everything in my house was some shade of gray. My walls, drapes, furniture…you name it and it seemed to be gray.
Now maybe I'm exaggerating, but it started feeling that way and I felt I needed to make some changes by adding some color.
Let me be clear, I'm not saying there is anything wrong with gray…just saying I needed a little more color.
Blue is so popular this year and I've been loving all the blue that is currently out there. I decided I could incorporate it with the gray and it would look pretty.
I especially love the way my new blue chair looks with it!

It All Started With Artwork
Artwork, throw pillows and lighting are my favorite decor items to purchase. In my opinion, they're kind of like the jewelry of home decor. It isn't uncommon for me to find one of the above and decorate a whole room around it.
Backwards maybe? But it works for me!
That's just what happened with my new blue spring decor. I found some artwork that I fell in love with.
Can you guess what the prints are?
If you guessed birds, you win!
I purchased these pretty prints from the Patent Print Store on Etsy. They are these lovely birds pictured below and a coordinating set of herons. You can read all about the amazing deal I got in Five Easy Ways to Refresh Your Space.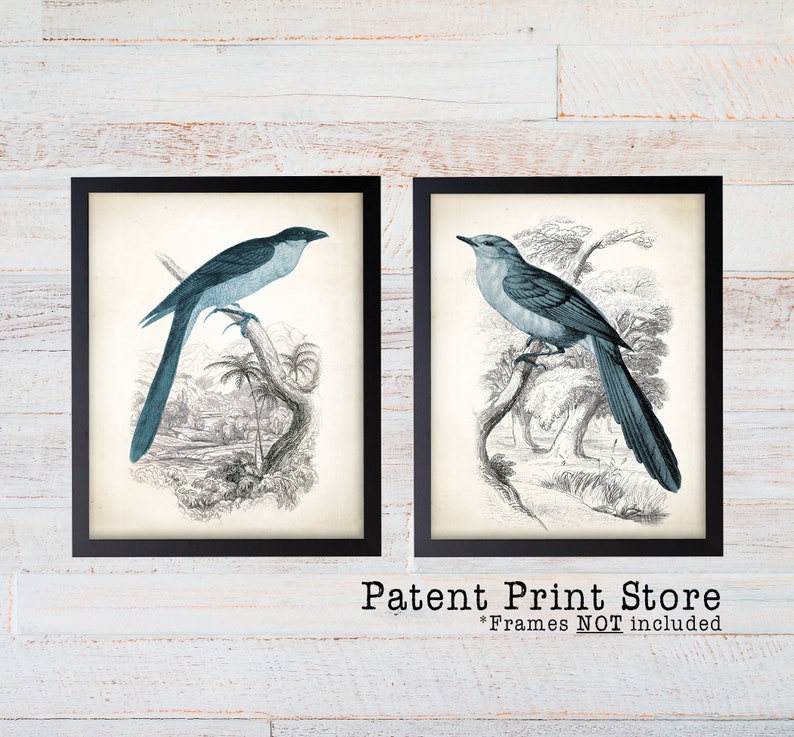 Our Main Living Area
Window treatments and a new rug were next up on the spring refresh list. I found these floral drapes at Home Depot. Am I the only one that has notice all the beautiful home decor you can find online at Home Depot?
My previous drapes were solid gray, surprised?
Anyway, I was looking for a printed drape and these fit the bill perfect! I have eight large windows in my main living area and these drapes add so much to the space!
I love the way they look with my new artwork, too.
Can we just talk about rugs for thirty seconds?
Maybe it's just me, but I believe they are so hard to purchase without seeing them in person. So, I orderd "a few" rugs before I found the one. In fact, I ordered so many that my hubby finally started sending me videos of them being dropped off, when I wasn't home.
Hey, a girl's gotta have options!
It was worth all the trial and error. Check out this beauty I ended up with!
I am loving all my new blue pillows, too! Especially the round one. It's so unique!
Do you like toile? I'm a very big fan and found some pillow covers to use with my dining room chairs. I think adding a pillow to the chairs, at the end of your table, makes it more "fancy" looking.
A Little Matching Table Decor
Tulips are always a sign of spring. I added some fresh tulips to my new blue and white vase. I love the pop of color they add. By the way, the blue and white vase options are endless out there and currently so reasonably priced.
How about a bird that looks concrete but isn't? I bought it at a local store by me called The Mitin Collective. The brass candlesticks came from there as well. I love to shop local!
My dining table is big so I always need something large enough to display. I bought this blue bell jar vase for a steal and it's just the right size for the center of the table. I added my little Target bunny for spring.
Isn't he cute?

Thanks For Coming To My Cottage!
Thanks so much for coming over! I hope you enjoyed my spring home tour and I hope you enjoy the spring season with all the beauty it brings.
Please stop by and see my good friend, Jennifer from Cottage on Bunker Hill. She is the queen of a beautiful DIY and you will love her New England cottage spring home tour. I promise!
Don't forget to follow me on Instagram and Pinterest!
Bloggers' Best Spring Home Tours
Monday's Tours

The Tattered Pew / My Thrift Store Addiction / Bricks n' Blooms
Shiplap and Shells / Cottage In The Mitten / Cottage On Bunker Hill
Tuesday's Tours

Midwest Life and Style / Open Doors Open Hearts / Cloches and Lavender
Amy Sadler Designs / Up To Date Interiors
Wednesday's Tours

Simply2Moms / Sand Dollar Lane / DIY Beautify
The Ponds Farmhouse / Pasha Is Home / Lantern Lane Designs
Thursday's Tours

StoneGable / My Wee Abode / County Road 407
She Gave It A Go / Aratari At Home / Willow Bloom Home
Friday's Tours

Lora Bloomquist Create and Ponder / White Arrows Home / Follow The Yellow Brick Home
Robyn's French Nest / tatertots and jello / My Family Thyme
You May Also Like